A4T has had a number of talented volunteers who dedicated their time to helping Afghanistan and A4T projects over the years. We are very thankful for all who have volunteered in Afghanistan and the US.
2015 Volunteers:
Adam Gordon stayed at the A4T guest house during a summer-long internship at the Afghanistan Independent Human Rights Commission.  While at the guesthous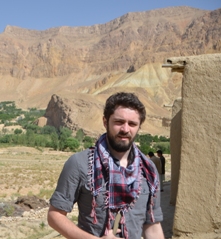 e he spent several evenings and weekends assisting with A4T projects, particularly writing and editing proposals and reports.  He witnessed the opening of the brand new classroom at the country office, and met with the inaugural class of young women, studying for their
'Kankor entrance exam' to attend a public university.
Adam had the privilege of joining the A4T country staff on their staff vacation to Bamyan and Saghon, and is now steadfast in his opinion that there are no other vacations quite like Afghan vacations.  He also had the honour of introducing the staff to their first ever pancakes, although he had to convince them that the maple syrup (as a true-blooded Canadian, Adam can find maple syrup ANYWHERE) didn't contain alcohol. 
(Adam joined A4T's Board in early 2016.)
2014 Volunteers: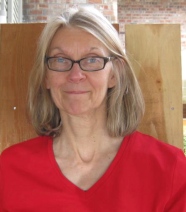 We are very grateful to Nancy Afman who volunteer at A4T's Country Office in Kabul for two weeks in mid-October.  She wrote the following about her experiences:
"In October, I had the privilege of staying in the A4T guesthouse and volunteering with the staff of A4T.   By helping the A4T Country Director write and edit reports, I learned about  the programs that A4T has started and continued over the past number of years. I was impressed with the number of different programs and the quality of them which addresses the needs of people both in the countryside and city. I was able to meet the staff from Wardak province, join in a staff meeting, visit the 5th Annual Science Fair at the former A4T school in Kabul.
I traveled to Nangarhar province to learn about the fuel briquette training program. I saw the returnees (IDPs) making briquettes at the Farm-e-Hadah camp outside of Jalalabad.
In addition, I took a few side trips to Bamyan, Istalif and the major sites of Kabul.  The A4T guesthouse in Kabul is comfortable, clean and the food is delicious.  I wish I cooked as well as Ahmed!  I've always wanted to go to Afghanistan and am happy I finally had the opportunity!
I am a psychiatric social worker on an inpatient unit and have 5 adopted children.  Now that my children are becoming more independent, I'm able to volunteer in various countries and have wanted to go to Afghanistan for a long time.  I was happy to get the opportunity to go with A4T, learn about their programs and see some of them in action!"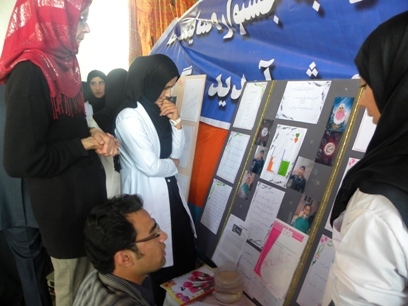 Ron Bradley volunteered as a counselor at Tomorrow's Afghans School (formerly known as A4T 1 School) in April, 2011 (see below). Ron stated that he missed the children and their teachers and indeed returned to the school in Kabul in November, 2013. He counseled with numerous students and their teachers, and provided an in-service for the faculty on stress related topics.
To view a summary of Ron's experiences in Kabul and his photos of some young faces of Afghanistan, reflecting the hope and resiliency of the Afghan children, see here.
2012 Volunteers:
Matt Hawcroft spent 3 weeks in Farda-e-Afghanan School, or Tomorrow's Afghans School (formerly known as A4T 1 School), Kabul in Fall 2012.
His time was primarily spent assisting 20 students at the school with their research and preparations for the school's third annual Science fair (see Science_Fair Nov._2012). He also spent time assisting with science, math and English lessons.
Using a donation from The Royal Meteorological Society (UK), he worked with the schools' science teachers to devise a list of laboratory equipment for the school, which was then purchased and a basic science laboratory was set up in the school – pictured below.
Since leaving Kabul, Matt has stayed in contact with A4T and became a member in January 2014. He has been working with A4T's Country Director in writing and developing funding proposals related to education and science, in particular, in Afghanistan. Matt is from the UK and has degrees in law and geography. He is currently working towards a PhD in meteorology.
 2011 Volunteers:

Ron Bradley volunteered for two weeks this spring at our former A4T School in Kabul. Ron provided counseling and support to our students and teachers. His primary focus centered on assessing the psycho-social pulse of the students and teachers.
Some of Ron's photos of our students are posted on the A4T Group Facebook page under PHOTOS.
Enjoy a video Ron made of the A4T students at recess time here. View his album of photos of the students and some of our Guesthouse here.
Read Ron's Bio under our A4T Members' Bio page here.
---
2010 Volunteers:
Kathy Kelly volunteered in Dec. and Jan. to write a Business Plan for the Briquettes Program and also to assist in our A4T schools in Kabul. She has also raised funds for our school programs and gives presentations on Afghanistan and A4T.
Mike Decker volunteered in March to train our Finance Manager, in Quick-books and other programs on a new laptop that he donated to A4T office.
Bare Root Trees Project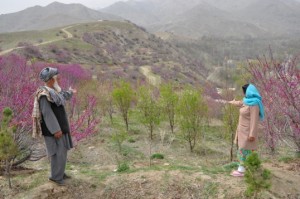 Six volunteers in late March planted and distributed 3,570 trees, in 5 locations in Afghanistan, -including apple, almond, apricot, roses, poplar and pine trees. The group was again led by Asma Eschen, A4T Board Member and co-founder of the Bare Root Trees Project, which is a co-partner with the First Presbyterian Church of San Anselmo. Many other volunteers traveled to Afghanistan to plant trees for 7 years.
---
2009 Volunteers:
Bare Root Trees Project
Five volunteers in spring 2009 planted and distributed more than 5,000 trees in Afghanistan -led by Asma Eschen, co-founder of the Bare Root Trees Project.
Camilla Barry, president and founder of Classrooms Across Cultures, did some training for our teachers at A4T School # 1 in the summer while in Kabul. She donated her time and materials to teach them two lessons in early July. Since then she continues to return to Afghanistan every year to provide teacher-training and classroom instruction in hands-on science lessons for Afghan students, through her nonprofit organization.
Under `2006 Volunteers' below, read about Camilla's teacher-training at A4T schools.
Camilla published a book of science lessons through the Afghan Ministry of Education for all Afghan schools.
---
2008 Volunteers:
Shaima Shahbaz, from NYC who joined A4T in early 2008, Traveled to Kabul in early September to volunteer in both our schools there helping in the English classes. She also helped with the A4T School # 1 Assembly. She oversaw the distribution to both schools of the wool hand knit clothing made by afghans for Afghans volunteers. As project manager of the A4T Fuel Briquettes Project during the last quarter of 2008, she helped as needed, the staff/students making briquettes at the A4T 1 station. She took photos of all the above school projects and has written excellent reports about them.
Bare Root Trees Project
Nine volunteers in April, 2008 were part of a tree-planting delegation led by Asma Eschen,co-founder of the A4T-Bare Roots Project. They planted 5,105 trees with partners from the local community. They also distributed over 270 boxes of humanitarian supplies to Afghan returnees.

Jeff Symanski is an elementary school teacher in Vermont and an A4T member. He returned to teach English at one of our schools in July. He did some teacher-training also and has shared the following about his experience:
"This past summer I was very fortunate to return to Afghanistan as a volunteer teacher at the Afghans4Tomorrow Vocational and Training Center (A4T School #1). While it was only a month, there was a lot to experience and learn.
The hospitality of the Afghans was as welcoming as my first trip (see below under 2006 Volunteers). On a daily basis, the girls at the A4T School # 1 were very gracious and demonstrated their desire to learn English. It was great to work with the current English Teacher. A4T is extremely lucky to have a principal and vice principal very dedicated to educating their students. It was truly an honor to work under them.
At the A4T schools there is an exciting desire to learn and the girls seem very proud of their efforts. In the school you can hear teachers teaching and students reciting and answering questions. But you also hear and see girls laughing, playing, and enjoying their school. A4T is truly doing a great service for the community around its schools and as an American teacher it was a great privilege to be part of it."
---
2007 Volunteers:
Marsha MacColl, A4T board member from the San Francisco Bay Area, volunteered for two weeks in March ('07)in Kabul teaching English at the two A4T schools there, together with Susan Hall (see below). They taught the students vocabulary lessons, using flash cards, the alphabet, the ABC Song and other songs, and practiced dialogs.
"On my third day at the Janet/A4T School, certificates were passed out to each student showing their year-end test scores and completion of that grade. The graduating sixth graders received their certificates (see photo) from their principal and were given praise by the A4T Country Director. After taking this photo the students spontaneously sang two verses of `We Shall Overcome` and then sang the National Anthem of Afghanistan. They also told me the career of their dreams, including: a teacher, doctor, engineer, journalist and TV broadcaster. The A4T students at both schools impressed me with their strong desire to excel in their lessons and in reading, and their respect for their teachers, school & A4T members. Seeing them laugh and sing brought me much joy. Many were eager to practice English with us and said English was their favorite subject!
We also distributed school supplies, a pair of hand-knit wool socks for each student, (see article/TV interview) and trees donated by the A4T-Bare Roots Group."
See the A4T students' `thank you' for their new socks, from afghans for Afghans volunteers, in this photo.
Susan Hall was a delegate on the Global Exchange Reality Tour "Women Making Change" in 2005. She wanted to return this year and help Afghan people. She joined Marsha to teach English in the A4T schools during their 2-week trip to Kabul in March.
Some of her photographs of our students in Kabul are on our site.
Gloriann Liu is a professional photographer who has traveled to Afghanistan ten times over the past five years. On her trip there last February she helped with A4T's distributions of donated clothing to Afghan returnees in Kabul. Some of her photos are on our site, with her permission.
During June, Gloriann returned to photograph many people and places in Afghanistan, including the A4T school #1 in Kabul.  See Gloriann's photos of Afghanistan on her website at www.gloriannliu.com.
---
2006 Volunteers:
Jeff Symanski was a first and second grade teacher, from New York City, who went to Afghanistan in July and volunteered to teach English at A4T schools for one month. Here is an excerpt from his blog:
"July 16, 2006:
I am presently teaching at the A4T School # 1. The school is made up of about 220 – 240 students. The class sizes vary from 10 -18. The girls ages also vary from 5 to 20. All of the girls wear a uniform, which consists of a black outfit and a white scarf. The staff includes a director and about 11 teachers. The children learn the basics as well as religion or the Quran. There are four or five computers in a computer class. The English teacher, who is Afghan, learned English in Pakistan. I am now teaching her classes as she sits in and takes notes. Sometimes I will ask her to demonstrate an activity with me, which right now is using flash cards with a partner.
The students and teachers have been so welcoming and friendly. They are very gentle people who would seem to go out of their way to make one feel welcomed and at home.
Last entry:
Saying goodbye to the children and staff at the school in Kabul was a different sensation. I was very touched when the girls volunteered to get their picture taken. During my first week with them I took pictures and many made sure their scarves covered their faces and they looked down into the desks, refusing to look at the lens. Now they were waving and laughing and requesting to be photographed. When they gestured me to stand with them and have another teacher take the picture of us, I was truly proud. It meant so much to feel accepted and I guess to a certain degree trusted."
A4T appreciates the work of Jeff and we hope he will return to Afghanistan. Our students and our English teachers were thrilled to have him as a coach.
Please see Jeff's PHOTOS of A4T school # 1 and other photos of Afghanistan.
Camilla Barry, a long-time friend of A4T, returned for the third year to conduct teacher-training in science at our A4T schools. She spent a week in late August teaching anatomy, chemistry and biology to teachers from both schools. Her 21 year old son, Nick Barry, assisted her during the one month trip to Afghanistan.
Farnaz Haji is a University of Colorado alum who taught our students Science, Farsi, and English from September to mid-November 2006. She also did some teacher training. Here is an excerpt of her letter:
"9-27-06
So far everything at school and with A4T has been great for me and the girls have completely stolen my heart.  Since my arrival I've been teaching various subjects including English, science, math and geometry.
Due to the ongoing exams I've been focusing on preparing the students with whichever subject they have difficulties with. Beside basic classroom instructions I try to simultaneously incorporate general health and social skills in my classroom curriculum.
These girls are extremely talented and A4T schools are giving them the opportunity to take charge of their own destiny."