The Objectives of A4T's former Briquette Program (2010 to 2014):
To partner with NGOs in the training of Afghans in briquette production and to provide the poor and disadvantaged people of Afghanistan with:
•    An inexpensive alternative to wood fuel  (for heating, cooking, baking)
•    A sustainable business and income generating opportunity by selling Briquettes
•    Improved sanitation conditions by reducing the garbage
•    Reduce air pollution  (a Briquette produces 40% less smoke than wood when it burns)
•    A counter to the deforestation problems in Afghanistan
Past Accomplishments of the Program include:
2014:
A4T Briquette Training Program in………. was generously funded by the United Nations Development Program (UNDP) in their Small Grant Program (SGP),  and executed by the UN Office for Project Services.
A4T trained 120 (60 male and 60 female) poor people, in 20 groups in this project, each group containing 6 people. Their families participated as well and helped earn a living with the skills learned and equipment provided to them, after completing the program. Half of the groups were located in a camp outside Kabul and half were in a camp near Kabul.
The Trainees making briquettes are pictured below.
 
The Afghan Ministry of Economy reviewed the program and gave A4T an official letter explaining the project and introducing the project manager to the provincial government. A4T's manager gave a presentation to the Director of Agriculture and 45 other government and commercial representatives.
The project received donations of recycled paper from a company, bank and the election center in Nangarhar to use with other materials in making the fuel briquettes.
Five sites were setup for the briquette project's practical training, where all the trainees learned how to make briquettes in different qualities from different raw materials.
Below:  Children collect leaves to use in making fuel briquettes in A4T's program.
2011:
trained trainees in making briquettes in Kabul, and in Provinces in Afghanistan
We trained 40 women in 5 groups in briquette production at one location…..
After the trainees received their certificates, the press machine KIT was delivered to each group to make and sell briquettes to earn income.
In Kabul:   The classrooms are heated on cold days by burning in stoves the briquettes made earlier by those in the program.
From January to August 2011 A4T produced fuel briquettes …in Kabul – for heating buildings during winter- and then had to close this center (our costs to produce briquettes were more than the revenue for their sales, mainly due to large increases in the raw materials.)
2010:
In May 2010 A4T trained a female Master Trainer for …, an NGO working in North and Central Afghanistan.  She then trained others in that NGO, in Afghanistan.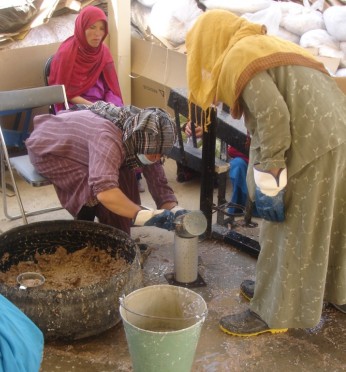 Making fuel briquettes: Women pour  briquette mixture into a mold for the 'press' to push out the water
In July 2010 A4T's Briquette Project manager visited these women making fuel briquettes (above) and coached them on improving the quality of their briquettes. The women support their families selling the briquettes as an alternative for scarce wood in Afghanistan. This group has successfully produced briquettes since the first year!
 Background:
The Afghans4Tomorrow staff and the Engineering for Developing Communities (EDC) program at the University of Colorado at Boulder partnered together to launch the Fuel Briquette Project in July 2008. Thanks to a generous grant from a charitable foundation, A4T trained several master trainers in making fuel briquettes from waste materials, such as sawdust and burnable garbage (paper,  cardboard, leaves, bark, etc.) by mixing them up with water.
A 'press' is used to push all the water out and make the briquettes. After the briquettes have dried, they are stored to sell later to bakeries and families, for heating and cooking, at a lower price than wood.
Our goals for this project are to:
•    Provide a source of income for our A4T schools and projects
•    Offering reading and writing classes those making the briquettes
•    Offer our expertise through training programs in other provinces in Afghanistan where people from the region can receive this training and start briquette businesses. These trainees then return to their community and train other families or groups.
Additional facts:
The founder of Foundation for Sustainable Technologies in Nepal was our original consultant on this project.
A4T participated several years in the 3-day Kabul Agricultural Fair (KAF) in mid-August, not to sell briquettes but to generate public interest in A4T's Briquette Project and training program. The booth displayed varieties of briquettes, a brochure that highlighted key items, a press with molds and a briquette-burning stove which heated up tea for everyone.