News Release on 1-26-22:
Asma's Project

A4T is grieving the loss of our friend, board member and volunteer, Asma Nazihi Eschen. Asma has been a longtime member of our A4T family serving in various positions since 2003. In 2005, Asma co-founded the Bare Root Trees Project with her friend Ash Wood and led 14 tree planting delegations to her birthplace, Afghanistan. Asma's efforts led to over 200,000 trees and rosebushes planted in Kabul and surrounding rural areas. The majority of trees were fruit trees, which are continuing to provide desperately needed fruit and income to the communities where they were planted. We are committed to continuing Asma's legacy of planting trees and providing food for the communities she had gotten to know so well.  This ongoing project will be named 'Asma's Project' in her memory. If you would like to help keep the project going. Please make a note if you are donating to 'Asma's Project', or in her name so we can also inform her family of your generosity. To donate by check, credit card or PayPal please see our Donate page.
---
News Release on 8-23-21:
Afghan Refugee Aid 2021
As you are probably aware thousands of Afghan refugees are coming to the US in the near future. They will be exhausted from a very difficult and mentally draining journey.  They have left everything they had and, most importantly, everything they hoped for in Afghanistan.  A4T's operation inside Afghanistan has now shifted to support these in-coming refugees in their resettlement.  A4T is in direct contact with top military personnel here in the US and we understand the first wave of refugees are safe and being well cared for.  However, it will take some time to process refugees through US military bases and much help will be needed.  We are in the queue for State Department authorization and awaiting instructions on where and how we can help with relocation efforts.
Such support includes provision of airport pick-ups, translation services in both local languages (Pashto and Dari), providing temporary shelters, providing counseling services, and household equipment and supplies.
Your help is really needed and we appreciate your support in making this difficult transition for Afghan refugees as painless as possible. As you will be aware, this is a rapidly evolving situation and A4T's response and support is evolving to respond directly to the needs of displaced Afghans as they resettle. We will continue to update our webpages to provide further detail of the work we are involved in during this difficult time. All donations will be wholly directed to supporting and assisting those refugees via our network of volunteers and partners.

Afghans4Tomorrow was established in 1998 and is a licensed NGO in both the United States and Afghanistan.   Our goal is to invest funds in projects that ultimately will help the economy grow and create lasting jobs for people in Afghanistan. We have currently shifted our goal from development to humanitarian aid, focusing on in-coming Afghan refugees. A4T USA is an all-volunteer organization.  For more information, see our website, or contact info@afghans4tomorrow.org (USA).
To donate by check, credit card or PayPal to our 'Afghan Refugee Aid' Fund, please see our Donate page.
---
Relief Funds Established
 In late May 2020, with dire conditions mounting due to the Covid-19 pandemic, Afghans4Tomorrow, Inc. (A4T) established two emergency relief funds to be sent directly to our staff in Kabul. Donations are needed for:
Covid-19 Food Crisis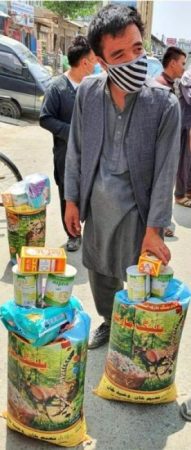 According to preliminary reports from the Integrated Phase Classification (IPC) 2020, it is estimated that one-third of the population of Afghanistan – including over 7 million children* – will experience food shortages from the Covid-19 pandemic. In Kabul, where food prices jumped by up to 30 percent overnight, there is a dire need for food. Please designate "Covid-19 Food Crisis fund" on your donation.
Afghans4Tomorrow's staff in Kabul purchased 120 bags of rice to distribute in equal packages to poor families with the donations raised.
Thank you for your generous donations to help A4T provide food relief in Kabul to those on the brink of starvation through this program.      (see:  Coronavirus: Seven million Afghan children risk hunger,  A hunger crisis beckons as Afghans reel from the impact of COVID-19 & Hunger Pandemic: How COVID-19 Could Worsen Global Food Insecurity)
Babies and Hospitals Under Attack

 The unthinkable slaughter of innocent women and their babies on May 12 were among 24 people killed.  A4T is collecting funds to go directly to provide nourishment for the victims of the latest horrific attack on babies and mothers and their healthcare professionals.
      Please designate "Babies and victims of hospital attacks Fund"  on your donation.
(see:  "Born Into Carnage, 18 Afghan Babies Face an Uncertain Fate")
To donate by check, credit card or PayPal please see our Donate page.
Thank you!  Tashakor!
---
---
Press Release:
Dec. 10, 2015 –  Afghans4

Tomorrow

is participating in 

AmazonSmile 
Amazon.com's corporate giving program.  Your regular purchases from Amazon can help fund A4T's education and healthcare work in Afghanistan!
All you have to do is login to your Amazon account through smile.amazon.com, instead of the usual www.amazon.com, and select "Afghans4

tomorrow

, Inc." as your charity of choice.  You can also go directly to: https://smile.amazon.com/ch/45-4488166.  Make whatever purchases you like, and Amazon will automatically donate 0.5% of the purchase price of all eligible items to A4T.  It's that simple.  
 However, fifty dollars for every $10,000 in purchases is not enough to fund our operations.  The end of the year is fast approaching–please don't forget to make your tax-deductible donation, by clicking the button to the right, or by mailing a check to the address on the Donate page.
---