Relief Funds Established
 In late May 2020, with dire conditions mounting due to the Covid-19 pandemic, Afghans4Tomorrow, Inc. (A4T) established two emergency relief funds to be sent directly to our staff in Kabul. Donations are needed for:
     Covid-19 Food Crisis
According to preliminary reports from the Integrated Phase Classification (IPC) 2020, it is estimated that one-third of the population of Afghanistan – including over 7 million children* – will experience food shortages from the Covid-19 pandemic. In Kabul, where food prices jumped by up to 30 percent overnight, there is a dire need for food. Please designate "Covid-19 Food Crisis fund" on your donation.
Afghans4Tomorrow's staff in Kabul will use these donations to purchase 120 bags of rice to distribute in equal packages to poor families. Photos of A4T's distributions will be posted here later.
Thank you for your generous donations to help A4T jump start this program to provide food relief in Kabul to those on the brink of starvation.
(* see:  Coronavirus: Seven million Afghan children risk hunger,  A hunger crisis beckons as Afghans reel from the impact of COVID-19 & Hunger Pandemic: How COVID-19 Could Worsen Global Food Insecurity)
Babies and Hospitals Under Attack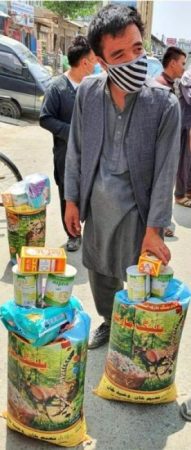 "A newborn baby girl receives treatment for the gun wound in her right leg injured during the attack on a maternity clinic in Kabul this week. The gunmen killed her mother.  Wakil Kohsar/AFP via Getty Images" *
 The unthinkable slaughter of innocent women and their babies on May 12 were among 24 people killed.  A4T is collecting funds to go directly to provide nourishment for the victims of the latest horrific attack on babies and mothers and their healthcare professionals.
Please designate "Babies and victims of hospital attacks Fund"  on your donation.
(* see:  "Born Into Carnage, 18 Afghan Babies Face an Uncertain Fate",  "Afghan Woman Inspires Others to Breastfeed 20 Newborns who Lost Their Mothers After Terror Attack in Kabul Maternity Hospital")
To donate by check, credit card or PayPal please see our Donate page.
Please share with family and friends to help us make a difference in many lives in Afghanistan.
Thank you!  Tashakor!
---
Past Events:
Afghanistan – An Inside Look

, by Najib Sediqi,
Afghans4Tomorrow Board Chief Executive

The First Presbyterian Church of San Anselmo, invites the community to hear the latest news from Afghanistan by Najib Sediqi, who is also the Kabul Bare Root Project representative, on Sunday, Nov. 17, 2019   –  11:15am – 12:30pm, at 72 Kensington Road, in San Anselmo, CA
He will give a presentation about the Bare Root Project's 185,000 trees planted since 2005, and an update about Afghans4Tomorrow programs and Global Exchange Reality Tours in Afghanistan. 

This event is hosted by the First Presbyterian Church of San Anselmo.
---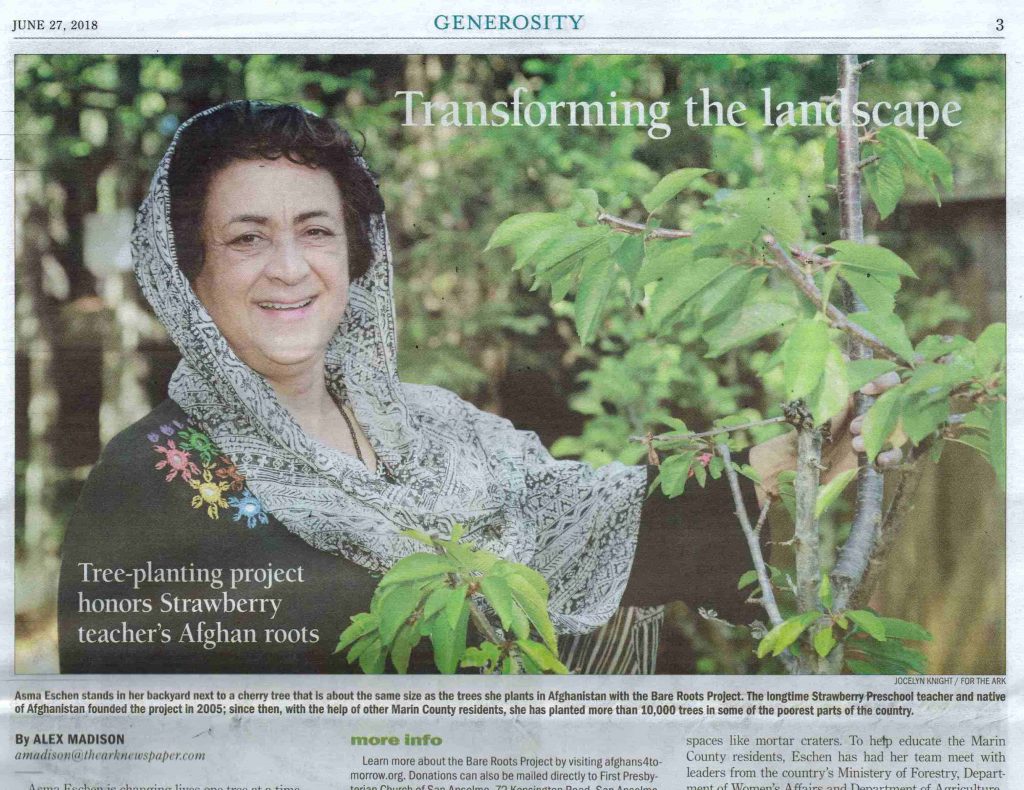 Please view the article "Roots of Change", linked HERE, to learn more about The Bare Roots Project- featured in The ARK newspaper's biannual "Generosity" special section, published June 27, 2018, with other Tiburon Peninsula philanthropic groups who have done amazing work in and outside of their community. The Bare Roots Project has planted and distributed over 185,000 trees since 2005!   The article includes reflections and photos by Asma Nazihi Eschen, board member of Afghans4Tomorrrow and co-founder of Bare Roots Project, of her trip last spring planting trees in Afghanistan. She plans to return and plant more there this year.
The public is invited to a presentation by Asma Eschen of photos and stories from her two trips to Afghanistan last year, on Jan. 27, 2019 – 11:30am, at 72 Kensington Road, San Anselmo, CA.  View the flyer about the event titled: "Thank you for the Apricots!"
---
June 2016 – A4T recently completed another hugely successful Winter Training Program for two months for 22 students and three teachers from the Sheikh Yassin School. Please view the report and photos linked at:  "2016 Winter Training Program".
---
Press Release:
Dec. 10, 2015 –  Afghans4

Tomorrow

is now participating in Amazon.com's AmazonSmile corporate giving program.  Your regular purchases from Amazon can help fund A4T's education and healthcare work in Afghanistan!
All you have to do is login to your Amazon account through smile.amazon.com, instead of the usual www.amazon.com, and select "Afghans4

tomorrow

, Inc." as your charity of choice.  You can also go directly to: https://smile.amazon.com/ch/45-4488166.  Make whatever purchases you like, and Amazon will automatically donate 0.5% of the purchase price of all eligible items to A4T.  It's that simple.  
 However, fifty dollars for every $10,000 in purchases is not enough to fund our operations.  The end of the year is fast approaching–please don't forget to make your tax-deductible donation, by clicking the button to the right, or by mailing a check to the address on the Donate page.
---
A4T is pleased to share this good news about our Girls Education Program in Wardak Province, featured in an article by the Zakat Foundation (sponsor 4th – 9th grades at the school):
To learn more about this program and see photos, visit:  Sheikh Yassin Girls Schools, Wardak Province
---
'Revealing Afghanistan – Poetry and Prose' on July 1st ~ San Francisco, CA
Come hear authors Adrienne Amundsen, Peggy Kelsey and Diane LeBow
as they take us on a journey through their written word and stunning photographs of Afghanistan
while helping raise funds for our Health Post in Wardak Province!
Your Host:  Sian Gowan, Afghans4Tomorrow
From 2000 to 2010 respectively, Peggy Kelsey, Adrienne Amundsen and Diane LeBow traveled to Afghanistan with Global Exchange Reality Tours, meeting with a cross-section of local leaders, visiting girls' schools and women's centers, hospitals, and even a Taliban reconciliation center. Celebrating International Women's Day with Afghanistan's remarkable women, they discovered a new kind of strength.
Peggy Kelsey has authored a book of interviews with some of these women and others from previous journeys. "Gathering Strength: Conversations with Afghan Women" gives an intimate look into the lives of these Afghan women through their own words and portraits.
Adrienne Amundsen, board member of Afghans4Tomorrow, has written an insightful book of poetry, "Reclaiming the Apple: Poems from Afghanistan," giving us a chance to imagine the senses that only visitors experience in this ancient wartorn land.
Diane LeBow, women's rights activist, writer, and photojournalist, has written and lectured on her three trips to Afghanistan between 2000 and 2003, where she participated in conferences with Afghan women, assisting them in writing a "Declaration of the Essential Rights of Afghan Women," parts of which were incorporated into the first Afghan Constitution. Her essay, "At Home in Afghanistan," won the Travelers' Tales Gold Award for Best Women's Travel Writing in 2010.
Many of the programs these three women visited were founded and now supported by Afghans4Tomorrow (A4T), a registered 501(c)3 nonprofit organization with headquarters in Kabul, completely staffed by Afghans, and a network of committed volunteers located mainly in the U.S.
Currently, A4T is in dire need of funds to supply medicines to their Health Post in Wardak Province, one of the most dangerous parts of the country.  This clinic provides basic medical and midwifery care annually to thousands of poor residents from nearby villages.  I'm sure you can imagine how important these services are, so please come to listen, learn, discuss and contribute to the continuation of these programs at our event in San Francisco  ~  July 1st, 2014, 7 pm.
 Both books will be available for sale at the event with portions of the proceeds going to A4T. They are both available on Amazon.com and "Gathering Strength" is also available at www.kelseys.net/the-book
If you are unable to attend, please consider making a tax-deductible donation to A4T (by check or credit card) at:  Donate to A4T .
---
January 25, 2014 at 7:00 pm
Book launch event at Book Passage Marin
51 Tamal Vista Blvd.
Corte Madera, CA
Adrienne, an A4T board member, went to Afghanistan as a Global Exchange Reality Tour delegate in 2010,
and wrote poems during her trip.
Adrienne's poems describe a country that was devastated by war. She found
the Afghan people determined, resilient and hopeful in impossible circumstances.
[Adrienne Amundsen, author, A4T Board member]
All profits from book sales ($12.95/each) will go to Afghans4Tomorrow
---
Planting Trees in Afghanistan
Presentation by the Bare Roots Group
Oct. 7, 2012   ~   11:30 – 1 p.m.
First Presbyterian Church of San Anselmo
72 Kensington Road, San Anselmo, CA
The public is welcome to hear stories and view a slideshow of 9 individuals
who have traveled to Afghanistan to plant trees
with the Bare Roots Project in this war torn country.
Since 2005, Afghans4Tomorrow and the First Presbyterian Church of San Anselmo
have partnered in the Bare Roots Project, working with Afghan communities
to plant over 10,000 fruit trees and 2000 shade trees.
---
Insights on Afghanistan
Monday, January 30, 2012  ~  noon to 1;30 pm
Come to the League of Women Voters of Marin County at their International Relations group's meeting:
Marsha MacColl, board member of A4T, will speak on the risks Afghan women are taking in their every day lives and as they attempt to serve in their government, vote, and help develop their country.
A slide show of recent photos, stories of first-hand experiences working with the people of Kabul
and a display will be included in the presentation.
Discussion and questions follow the talk.
---
Alternative Christmas Fair in Tiburon
Sunday November 20, 2011 11:00 AM-12:15 PM
Westminster Presbyterian Church
240 Tiburon Blvd., Tiburon
Everyone is invited to Westminster's 23rd Annual Alternative Christmas Fair to support organizations like Afghans4Tomorrow. We'll have a booth there with info. and cards for you to give as `gifts' in honor of
special people on your holiday gift list.
Donations for gifts will go toward A4T's new Midwife Program at our Health Post in Wardak Province.
Select from `gifts` of medical supplies, medicines, building materials for a Delivery Room
or a combination, which will help save lives of Afghan women and babies.
You will receive a card describing your 'gift', which you can insert into a
special holiday card for your gift recipient.
---
Rebuild Afghanistan Summit 2011:
Northern California Rebuild Afghanistan Summit
Sat. October 22nd at University of California, Pauly Ballroom
2200 University Ave. ~ MLK Student Union Building, Berkeley
This is a great opportunity for the local communities to get involved
with organizations working to improve lives in Afghanistan.
There will be keynote speakers, workshops, panels and networking time!
Afghans4Tomorrow is participating in both these summits! We'll have brochures,
photos of our projects on display, and Afghan craft items for sale.
A4T President Kim O'Connor will speak on a panel about A4T's work 'in the field'.
Please click Here to see the NorCal summit schedule, speaker bios and more!
**************
See all past events with Afghans4Tomorrow from 2006 – 2010  here!