2022:
Afghans4Tomorrow is situated to respond quickly to help the most needy Afghan families faced with the hard winter months ahead. There are extreme shortages of money, food and fuel for heat. We have registered with the new government and are partnering with the World Food Program to purchase and distribute food in Kabul and surrounding rural areas. We have a very brave and active staff in Kabul working diligently to meet the immediate needs of the people as they can.
We also support the Afghan refugees resettling in the US, since Sept. 2021. Thousands of Afghan refugees coming to the US, after a very difficult and mentally draining journey, have left everything they had and, most importantly, everything they hoped for in Afghanistan.
You can help A4T in supporting these refugees in Colorado, California, Virginia and other states. Such support includes transportation costs (airport pick-ups), translation services in both local languages (Pashto and Dari), providing temporary shelters, providing counseling services, and household equipment/supplies and toys for kids.
A4T continues to support girls education.  We have had numerous requests for funding to keep these schools open.  Your help is greatly appreciated. More information about these projects can be found at A4T News.
---
To Donate Online to A4T with a debit/credit card or PayPal: 
Fill in the donation details on A4T's PayPal form here. To specify a project, complete the billing information – then continue to the next screen, where you may write the project's name in the "Message" box  ("Afghan Refugee Aid", "Aid for needy people inside Afghanistan", or "Asma's Project"). You may also add the name of a person you want to donate in honor of.   NOTE:  A4T is grieving the loss of our friend and long-time board member, Asma Eschen, and has established a fund for donations made in her memory:  "Asma's Project".
Donate by Check to A4T:

Mail your check to our volunteer bookkeeper at our current mailing address:
Afghans4Tomorrow
4699 Apple Way
Boulder, CO  80301
Please make your check payable to: Afghans4Tomorrow, Inc.   You may designate your donation to A4T by writing:  "Afghan Refugee Aid" or "Aid for needy people in Afghanistan"or "Asma's Project" in the memo of your check. You may also add the name of a person you want to donate in honor of.
A receipt will be sent to you with the A4T Tax ID number.
Your online or check donation is fully tax deductible, to the extent permitted by law.
---
AmazonSmile's corporate giving program is a great way to donate to help A4T programs! Go directly to the smile.amazon.com page for "Afghans4tomorrow, Inc." (or click the AmazonSmile box on the right) and register or login with your Amazon account.
Make any purchases you like, and Amazon will then automatically donate 0.5% of the purchase price of eligible items to A4T.
---
2020 and 2021:
Relief Funds
Help Afghans4Tomorrow continue to serve the poorest in Afghanistan through our programs in education for young girls and women. Currently A4T is supporting an ongoing distribution of  rice packages for families most affected by the COVID-19 crisis, and also the victims of the 5-12-20 hospital attack in Kabul, see A4T News.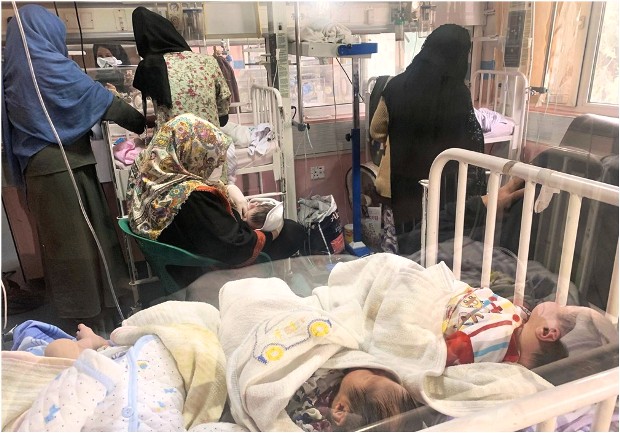 Your donations will help us provide rice bags for the poor and victims of recent hospital attacks; baby formula; teachers' salaries and needed classroom supplies.
Afghans4Tomorrow, Inc. (A4T) is a registered 501(c)(3) non-profit, non-political, humanitarian organization.
We hope you will continue to support Afghan people who are trying to achieve self sufficiency and live healthy lives! Thank you to all who have generously donated to A4T!

~ TASHAKOR! ~