Health & Midwife Programs, Chak district, Wardak Province

International aid and programs like Afghans4Tomorrow (A4T) have made a real difference in addressing the health needs of the most vulnerable Afghans –women, children and the elderly– through its Abdullah Omar Health Post. Our post opened in June 2007, thanks to many generous donors and volunteers.
2015 update:
Accomplishments from the last 8 years:
91,803*  patients have treated by our doctor, doctor's assistant and midwife

946 patients is the average number treated per month

14,422 patients have received vaccinations

2,734 women patients have been treated by our midwife since November 2011


69 babies have been delivered by our midwife at our private Midwifery Center – since October 2012

3,846 patients have benefited from: treatments, family planning and child care training programs, and birthing services by A4T's Midwife
*See A4T's Abdullah Omar Health Post & Midwife 8-yr. Patient Treatment Record – to June 30, 2015  for info. and data.

In Sept. 2015, A4T Country Director visited the A4T programs in Shikh Yassin, Wardak Province, including Abdullah Omar Health Post. The HP was closed temporarily last summer,  due to lack of funds to support it. The people in the area are not happy because they don't have any access to health services. They request that A4T (with the help of donors) re-opens the Health Post as soon as possible.
Donate today to help A4T to provide health services to the poor in Wardak Province.
We urgently need funding to open our Health Post again. Donations are needed for medicines and staff salaries. The economic situation in Wardak province since 2014 has not been good, partly due to a droughts' effect on the families' farms. The educated families that have enough money to move out of the province to Kabul and other secure provinces of Afghanistan have left.
We are unable to increase the minimal charges on medicines or patient fees because the people can't afford this and many have no ability to pay any fees. We need support for our health care services and medicines for the poor.

Donate Now:   Please Donate to A4T online or by check ! Your tax-deductible donations will help fund, for example,  monthly salaries of $800 – Doctor, $400 – Dr.'s Assistant, $320 – Midwife; and  $500 for medicines per month.
Our Midwife Program
Our Midwife Program began in 2011, thanks to many donors. After consulting with our staff, A4T board members & Country Director hired a qualified midwife in Nov. 2011 to serve the women in Shikh Yassin and nearby villages.
A4T's midwife had earlier completed two years of training in the Swedish Committee's Midwifery Program and became certified. She worked for two-and-a-half-years as a midwife at Chak Hospital, before coming to work for A4T's HP.  Because of security issues, it is very difficult for pregnant women to travel 10 km to the hospital. Before the Abdullah Omar Health Post Midwife Program was established, 90% of the newborns were delivered at home.
Since that time, up to June 30, 2015, our Midwife has treated over 2,734 women  and has delivered 69 babies (since the opening of our private Midwifery Center in Oct. 2012).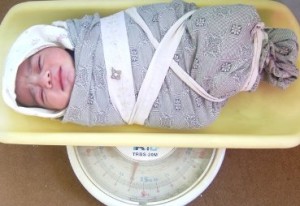 Besides birthing services, the midwife offers information about family planning/ birth control, care of newborns, and nutrition for mothers and babies. The Family planning and child care training program for mothers, by our Midwife,  has benefited 1,112 patients, an average of 25 per month  since November 1st 2011.
The Afghan villagers pay 30% of their medication and treatment fees. However these fees cover only a fraction of the salaries, equipment and medicines cost.
Afghanistan is the "worst place for a mother to be" with the world's highest rate of maternal deaths for decades. Afghan Ministry of Public Health reported, in Afghanistan Mortality Survey that one Afghan woman dies every two hours* from pregnancy-related causes. (*This is an improvement over the rate it had been – one every 30 minutes) (learn more at Afghanistan's health and midwifery indicators)
The infant and under-five's child mortality rate has dropped in half. However, one in 10 children in Afghanistan still dies before they are five years old, the survey said.
Our health care programs have contributed to this improvement in the maternal and infant mortality rates and the average lifespans in Afghanistan.
2014:
The Abdullah Omar Health Post provided medical services to a total of 6,784 patients (men, women and children) for the year ending 12-31-14, including
1,726 women and children were vaccinated
1,244 patients were served by A4T's Midwife, including:


treating over 565 women, 
providing family planning & child care training for 751 mothers, and
delivering 33 healthy babies in our private Midwifery Center
We had a lower than average number of patients in April and May due to increased fighting in Wardak, the drought, poor economy and the lack of medicines.
The purchase of half the year's medicine supplies during early June,  improved the patient visit numbers, which returned to their normal high levels since then for the rest of 2014.
You can make a difference in the lives of many in need of medicines and treatments. Please donate to help A4T continue providing these greatly needed services in this rural community!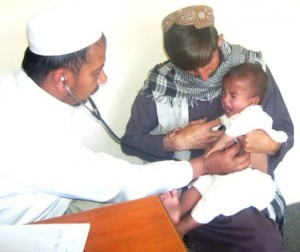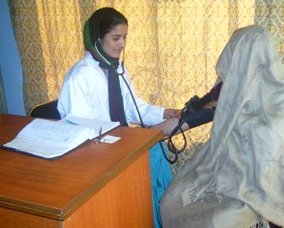 2013:
A4T's services were greatly needed by many families in Sheikh Yassin and in 15-25 nearby villages. The roads were very bad in this district and the security was worse  making it is dangerous for the villagers to travel from Wardak Province to hospitals in Kabul.
Our Health Post served 6,233 patients -men, women and children, and 1,551 women and children were vaccinated in 2013.
Our Midwife treated 1,053 patients in the new private midwife facility, where 28 babies were delivered during the year.
About our Midwifery Center:
A4T raised donations from individuals to launch a new Midwife Program in 2010-2011 and hired a qualified midwife in 2011 to serve women in a private room inside our Health Post, from Sheikh Yassin and nearby villages.
Our staff recommended the building of a separate Delivery Room facility, with its own private entrance for women to be served by our new midwife – inside our walled compound.
The building was opened in October 2012 with two delivery rooms, a waiting room, a bathroom and standard medical equipment and medicines needed by midwives. It serves the women coming for pre-natal checkups, deliveries, post-natal and baby checkups, medical and nutritional advice as well as family planning information.
Donations for medicines, medical supplies and health care services at our Midwife Program are needed to reduce the high maternal and infant mortality rates in Afghanistan. We rely on donations from individuals to help A4T continue its services.
Please DONATE to A4T online or by check. Your tax-deductible donations to this program will make a difference to many lives in this community.   Click here to donate!  Thank you!
We are thankful to the ERD nonprofit for their generous grants funding a large portion of A4T's health and school programs from 2007 to 2012.
About The Abdullah Omar Health Post:

The Health Post provides services to an average of 40-50 men, women and children each day, offering medicine, check-ups, immunizations and other basic health information. They are helping to save lives, especially those whose situation is critical, such as women and children who are vulnerable to many diseases.
The health post opened with a doctor, a pharmacist/doctor's assistant and guards. The doctor and the pharmacist are available 24 hours a day to deliver services to patients and work with the Ministry of Public Health.
The Health Post opened to all villagers on June 3, 2007 providing  the villagers basic health care and access to medicines, and immunizations for their children.
-Building Cost: $27,000
-Project Donors include the ERD, (with inspiration and support from Rev. Chloe Breyer, A4T board member), the Boulder and Fort Collins CO. Rotary clubs, the Fayaz Company and individual donors.
The post is named after the late Dr. Abdullah Omar, who served as Minister of Public Health in Afghanistan from 1973-1978.
The people of Wardak knew about his life-long commitment to the public health sector, and upon the recommendation by A4T's President at that time, they named the clinic after him.
~
From 1999-2010 A4T distributed much donated medicines and equipment in Afghanistan to help medical facilities serve the health needs of poor Afghans.
Other Resources and Links: